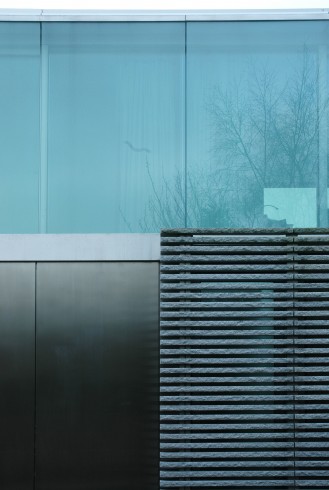 New Build House II
I was Project Architect for the house while working at Niall McLaughlin Architects, London in 2004 and 2005.
The house is located in the (former) back garden of a Georgian house on Anglesea Road. The house is built within a new walled garden. The glass box pops up above the garden wall
 
Layout:
The lower floor houses the reception rooms and kids bedrooms.
The basement includes the plant room, a car port, and a snooker room.
The top floor houses the master bedroom suite, including a study, sitting room, en suite, and gallery over looking the entrance hall. It also has access out to the grass roof above the living and dining rooms below.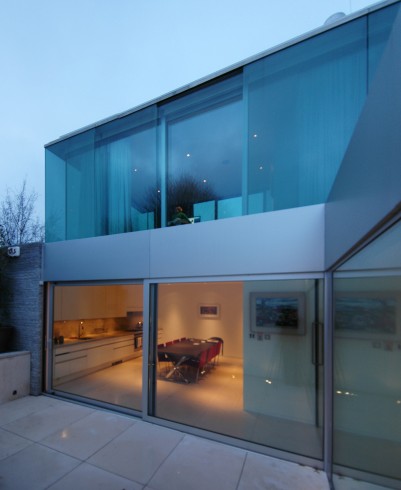 New Build House II
Glazed screens:
The upper floor of the house is a double skinned glass box. The inner sliding doors open and are double glazed and the building is sealed once they are closed. The outer glass is single glazed and is patterned to provide privacy. The gap between the windows allows for secure ventilation of the box along with facilitating easy cleaning of the windows.
Stone walls:
The existing stone walls are continued with modern, cut stone walls which form a boundary to the laneways, form the internal stairs and provide the flooring to the terraces of the kitchen and living room.
Daylight:
There is a very large rooflight running the length of the house at the junction between the glass box and the grass roof. Below the rooflight is a series of fins to diffuse the light above. This feature runs above the entrance to the living room.